LoveCasino Second Welcome Bonus Review
LoveCasino welcomes you with five unique welcome bonuses, all part of the LoveCasino welcome package. In this article, we'll explore the details of the Second Welcome Bonus offered by this betting hub. Be ready for a remarkable 200% match bonus, which can go as high as EUR 2000, accompanied by 100 free spins on a popular slot game. At first glance, this offer might seem suspiciously generous, however, our goal here is to provide you with a detailed review of all the important features of this promotion to determine if this is true. We aim to equip you with the knowledge to identify potential challenges and, at the same time, help you make the most of this offer. If you're contemplating whether LoveCasino is the right choice for your gaming adventures and whether its offers are worth your while, join us as we explore this promotion together and assess its benefits.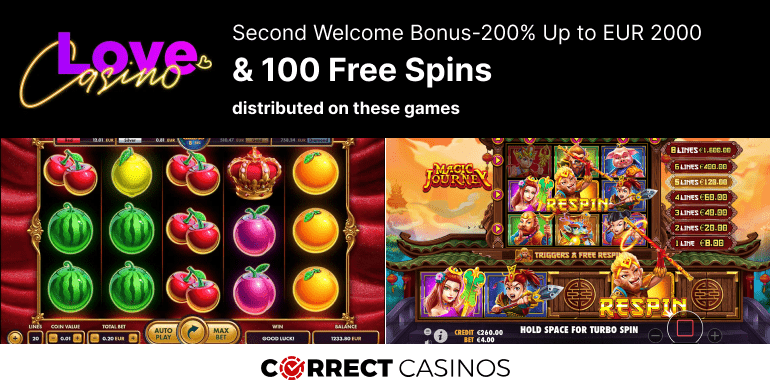 Your Second Welcome Bonus at LoveCasino – What to Expect?
LoveCasino's Second Welcome Bonus gets you an impressive 200% match bonus of up to EUR 2,000, along with the added benefit of 100 free spins on the NetEnt slot game Hansel and Gretel. While this offer might initially appear a little too generous to be legit, we're here to provide you with an in-depth analysis to determine if it lives up to the hype. To shed light on how this enticing incentive goes, let's check an example: Suppose you deposit EUR 1,000. In this case, the casino will award you an additional EUR 2,000 in the form of bonus funds, resulting in a substantial total of EUR 3,000 at your disposal for wagering. To partake in this offer, you simply need to make your Second deposit at the casino, ensuring it's a minimum of EUR 20. Once your deposit is processed, your bonus and the promised free spins will be promptly credited to your account, granting you the freedom to enjoy a fun betting spree that hopefully will turn out to be full of wins.
The casino does not explicitly say whether you'll receive all 100 of your free spins at once, but it's a common practice for many online casinos to distribute them incrementally, often in batches of 20, spread out over several days. To obtain the most current and accurate information regarding the specific distribution of these free spins, we recommend reaching out to the casino's customer support just before claiming the bonus. We recommend this approach not because we wouldn't like to share what we learned, but because the details we can confirm at this moment might be subject to change, and the distribution method may vary when you decide to use the promotion. As for the maximum bet, it is not specified within the promotion's terms and conditions.
| | | | | | | | |
| --- | --- | --- | --- | --- | --- | --- | --- |
| Bonus | Value | Minimum deposit | Wagering | Bonus code  | Bonus type | Max bet  | Eligible games |
| 2nd deposit | 200% up to EUR 2000 + 100 FS | EUR 20 | 50x | LOVE2 | Match bonus + free spins | not specified | Slot games |
Wagering
You're likely well aware of the critical role that wagering requirements play in the quality of the incentive you might choose to claim. Regardless of how enticing a bonus may appear or how captivating its marketing is, the crucial factor to consider when evaluating its true value is the number of times you must wager it before you can make a withdrawal. Additionally, you need to look for an offer that strikes a balance between the playthrough requirement and the time frame provided by the casino. If this balance is reasonable and well-matched, the offer is likely to be considered a good one. However, if it's mismatched, it's generally best to avoid it. To provide you with an idea of what constitutes a reasonable wagering requirement, the industry-standard typically falls within the range of 30x to 40x. The timeframes for completion can vary from 7 to 30 days, with the most favorable scenario being 30 days. Curious about LoveCasino's wagering requirements? Let's explore them together and analyze their fairness.
LoveCasino's Second Welcome Bonus of 200% up to EUR 2,000 and 100 Free Spins on Hansel and Gretel comes with a rather steep 50x wagering requirement. Unfortunately, the casino doesn't specify the timeframe for fulfilling this requirement on its website, which adds some unpleasant uncertainty. While one might speculate that this implies an indefinite period to complete the wagering, it's a risky assumption that may lead to losses. It's best to reach out to customer service via live chat just before claiming the bonus to obtain the most up-to-date information. It's also a good practice to keep screenshots of the conversation for reference.
Payment Restrictions
Minimum Deposit: EUR 20
Maximum Deposit: EUR 2,000
Maximum Withdrawal: The casino has set a weekly maximum limit of EUR 5,000.
Maximum Bet: Not specified
Game Restrictions
To fulfill the bonus's wagering requirements, your primary choice should be playing slot games unless the terms and conditions of the promotion specify otherwise. The casino has strict policies in place to prevent bonus abuse and any tampering activities. For example, these include situations where players place high-value bets solely to boost their balance, followed by reducing the bet value by more than half of the previous bet, all in an attempt to meet the bonus wagering requirements without substantially decreasing the balance. Additionally, the casino prohibits placing two conflicting bets simultaneously on games like Sic Bo, craps, baccarat, or Roulette, as this results in a net-zero wager, also known as even betting. You can take advantage of this promotion until December 31, 2023.
Reasons for Not Receiving Your Bonus
You've Missed the Time Slot
This bonus offer is open for participation until December 31, 2023. It's essential to be punctual in claiming the incentive because even a minute's delay will result in you missing out on it. To ensure you redeem it within the set time frame, act promptly. While the casino may introduce new attractive offers in 2024, this specific promotion will remain valid for just a few more months. Therefore, it's best to seize this opportunity to enjoy its advantages if you deem it has any.
The Casino Changed its Conditions
LoveCasino emphasizes in its Terms & Conditions that it retains the authority to modify any condition or term without advance notice, thereby superseding all prior versions of the information provided to players. In the event of such changes, there's a significant chance that you might not be eligible for your bonus anymore. It's truly important to maintain ongoing communication with customer service to remain informed about any alterations.
You Tampered With the Bonus
This gambling platform enforces stringent policies to stop bonus exploitation and questionable behavior. If you attempt to establish multiple accounts, exploit bonuses beyond the casino's limits, or employ conspicuous tactics to gain an unfair advantage and disproportionately increase your winnings, your bonus will be nullified, including any associated earnings. There is also a strong chance that your account will be suspended in case you're involved in tampering.
How to Claim the Second Welcome Bonus at LoveCasino?
Enter Your Account
Log into LoveCasino with your account.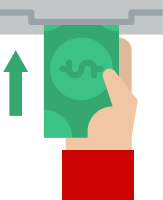 Deposit at least the Minimum Amount
Deposit a minimum of EUR 20
Have fun!