LoveCasino Fourth and Fifth Welcome Bonus Review
After taking a deep-dive into the three previous welcome bonuses offered by LoveCasino, it's time to take look at the Fourth and the Fifith, thus concluding the individual offers making the Welcome Package at the betting hub. We're looking at two twin promotions, both entailing a 100% match bonus of up to EUR 1,000 and 100 free spins on a hot slot machine game. In all fairness, these two offers sound the most realistic and well-balanced from the bunch, so we can't wait to check if our research will further support this positive first impression. The article you're about to read consists of clear and concise, but thorough breakdown of all good qualities and potential drawbacks of LoveCasino's Fourth and Fifth Welcome bonuses, so by the end of it, you're likely to have become an expert on the topic. If you're excited to know all about the benefits that these two welcome incentives can bring you and want to delve into all key details to gain good understanding of the intricacies, let's get right into it.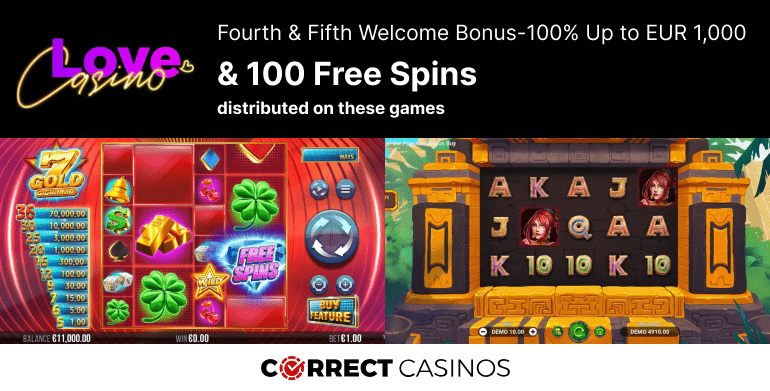 Your Fourth and Fifth Welcome Bonuses at LoveCasino – What to Expect?
LoveCasino's Fourth and Fifth Welcome Bonuses both consist of a 100% match bonus up to EUR 1,000 and 100 free spin on a predetermined popular slot game. The Fourth Welcome Bonus offers free spins for NetEnt's game Vikings, and the Fifth Welcome bonus comes with free spins for Sparks, another title of the same gaming studio. A quick demonstration of how the incentive works – if you deposit EUR 1,000, which is the maximum, you'll receive another EUR 1,000 by the casino, ending up with a total of EUR 2,000 in your account, all for your betting journey! As far as the minimum deposit amount goes, it remains the same all throughout the package deal – EUR 20. To successfully claim your bonus, remember to use promo code LOVE4 with your fourth deposit, and LOVE5 with your fifth one. In case any issues arise during your transactions, or the incentive doesn't appear in your profile for an unknown reason, customer support will be glad to help, so don't hesitate to reach out.
A consistent negative throughout this series of welcome bonuses is the lack of any information when it comes to the distribution of the free spins. Will you get them at once? Will they be distributed in batches it usually happens in most betting hubs? It remains unknown, as there is no written clause or statement on the website. Of course the workaround closest to anyone's mind is to reach out to customer support and ask them what's the deal, but this approach comes with a potential pitfall – the information you'll receive isn't officially written on the website's terms and is subject to change.
| | | | | | | | |
| --- | --- | --- | --- | --- | --- | --- | --- |
| Bonus | Value | Minimum deposit | Wagering | Bonus code  | Bonus type | Max bet  | Eligible games |
| 4th deposit | 100% up to EUR 1000 + 100 FS | EUR 20 | 50x | LOVE4 | Match bonus + free spins | not specified | Slot games |
| 5th deposit | 100% up to EUR 1000 + 100 FS | EUR 20 | 50x | LOVE5 | Match bonus + free spins | not specified | Slot games |
Wagering
Undoubtedly, wagering requirements hold significant sway over the outcome of your attempts at maximising the potential of a bonus offer. Having a firm grasp of what helps to reach this goal is overall the best way to go, if you're set on making the best out of any incentive. The initial allure of big numbers, promises for free benefits, or a combination of both shouldn't be a factor when you're taking a look at a bonus offer. What's actually crucial to check is how big the playthrough number is, and how much time you're given to complete it. You should have enough time not to feel like it's impossible to do it, even if there is an element of challenge. If this isn't the case, foregoing the offer is in your best interest. Usually, a wagering requirement between 30x and 40x with a completion time frame ranging from 7 to 30 days is widely accepted as a good one.
LoveCasino's Fourth and Fifth Welcome Bonuses of 100% up to EUR 1,000 and 100 Free Spins on Vikings or Sparks are tied to an unfavorable wagering requirement of 50x, just like the previous three bonus offers at this betting hub. Here, though, wagering the maximum allowed amount is significantly more feasible than with the other parts of the package deal. However, considering that there is no specific information on how much time you have to complete the playthrough, it's best to be in contact with customer support and ask them right before proceeding to grab the offer. Keeping receipts from your communication is a good safety precaution as well.
Payment Restrictions
Minimum Deposit: EUR 20
Maximum Deposit: EUR 1,000
Maximum Withdrawal: There is a maximum limit of EUR 5,000 weekly.
Maximum Bet: Not specified
Game Restrictions
To successfully meet the wagering requirements of the bonus, focus exclusively on playing slot games, as they are the sole category that contributes to the playthrough fulfilment. The casino has implemented stringent measures against bonus abuse and aims to maintain the integrity of its bonus system by implementing them without making exceptions. In case the casino detects the use of irregular gaming techniques by a player, it retains full discretion to take action, including withholding withdrawals and potentially confiscating any winnings derived from irregular play. Should irregular play persist, the casino reserves the right to disqualify the player from claiming any bonus offers and can even opt to suspend or block their account overall.
Reasons for Not Receiving Your Bonus
You've Missed the Time Slot
Similar to the initial three welcome bonuses, the Fourth and Fifth bonuses are also accessible until the end of the current year. If you find these bonuses appealing and wish to take advantage of the perceived benefits they offer, hurry and claim them before the year 2023 comes to an end. While 2024 will undoubtedly introduce new enticing incentives that may be equally exciting or potentially better, if you have a special attraction for these particular ones, you have until the final moments of December 31st to indulge and obtain them.
The Casino Changed its Conditions
LoveCasino's Terms & Conditions are somewhat vague and frequently suggest that the casino can alter its rules and structure without much notice. This could impact your bonus since the information you initially relied on when selecting an incentive may no longer be valid when you attempt to claim it. To navigate this uncertainty, we recommend maintaining open communication with customer support and retaining all conversation records for potential future reference.
You Tampered With the Bonus
LoveCasino is quite flexible with its terms and conditions, but it takes a strict stance against players attempting to manipulate or misuse bonus offers. If you try to claim a bonus multiple times, especially if it's intended to be claimed only once, or if you create multiple accounts within the same household or on the same computer, the casino will nullify your bonus and could potentially even suspend your account.
How to Claim the Fourth and Fifth Welcome Bonuses at LoveCasino?
Enter Your Account
Log in your LoveCasino account.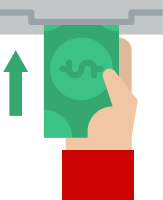 Deposit at least the Minimum Amount
Deposit EUR 20 at minimum.
Have fun!