LoveCasino Third Welcome Bonus Review
LoveCasino has not one, not two, but five mesmerizing welcome bonus offers that together make the LoveCasino welcome package. This review will assess the qualities and potential drawbacks of the establishment's Third Welcome Bonus. This one is very similar to the Second Welcome bonus, as it too presents you with the opportunity to grab a 200% match bonus, of up to EUR 2000, with 100 free spins on a fun and beloved slot chosen by the casino. Just like the previous two, this incentive sounds amazing, maybe even a little too amazing, which makes us wonder how substantial it is in actuality. This article will thoroughly check it and see whether you can enjoy it without second-guessing or if you should indeed proceed with caution. In case you've been enamored by LoveCasino's offers and have maybe even grabbed the first two, let's explore the benefits provided by the third one together to determine its real value and help you make an informed choice.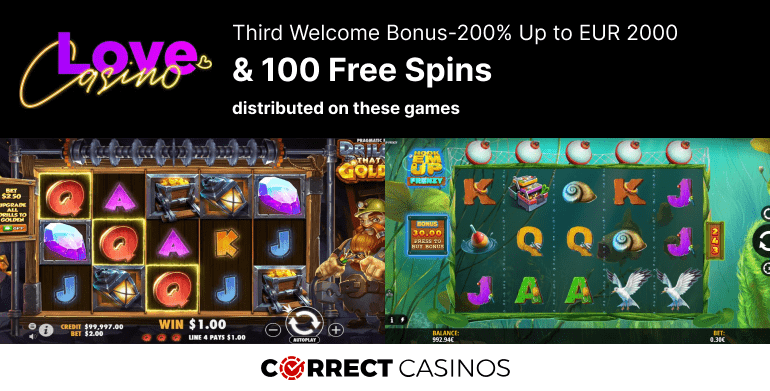 Your Third Welcome Bonus at LoveCasino – What to Expect?
LoveCasino's Third Welcome Bonus is the same as the Second Welcome Bonus – 200% match up to EUR 2,000 and 100 free spins, with the only difference being that this time around, the free spins are credited to NetEnt's slot Koi Princess. To give you an example of how the incentive works, let's say you've deposited EUR 1500 for your third deposit at the casino. You will then get a bonus of EUR 3,000 and have a total of EUR 4,500 to bet to your heart's content. The minimum deposit remains the same, namely EUR 20. As soon as you complete your transaction, the bonus and free spins will safely arrive in your account and you can start enjoying LoveCasino's game library. If you encounter any issues with receiving your bonus funds or free spins, make sure to contact customer support right away and they'll be glad to help.
Still, just like with the previous two bonuses, as much as we searched on the website, we couldn't find any information regarding the free spins distribution. Most online casinos never give out more than 50 free spins in one go and usually distribute larger amounts in a couple of days, so we are left wondering if the same is true for LoveCasino. The only workaround in cases like this is checking with customer support around the time you're planning on claiming the promotion and asking them for the exact procedure. This way you'll be able to get your hands on the most recent information, and if you're precautious enough to keep the screenshots from the conversation, you might have a leg to stand on in potential disputes. Another detail that remains unspecified is the maximum bet amount allowed with this bonus. Whether there's no cap or it's a secret, it's hard to tell since it isn't stated anywhere.
| | | | | | | | |
| --- | --- | --- | --- | --- | --- | --- | --- |
| Bonus | Value | Minimum deposit | Wagering | Bonus code  | Bonus type | Max bet  | Eligible games |
| 3rd deposit | 200% up to EUR 2000 + 100 FS | EUR 20 | 50x | LOVE3 | Match bonus + free spins | not specified | Slot games |
Wagering
There's no denying that wagering requirements are of huge importance to the success of your bonus runs, and understanding them can make or break your gameplay and winnings at any given casino. You shouldn't be swayed by a good-sounding or flashy-looking offer, as all that should interest you is the number of times you'll be obligated to wager the funds to be allowed to withdraw them afterward. It isn't as simple, though, because there's one more factor that comes into play – the completion time frame imposed by the betting hub. If it isn't too short and you can see yourself managing to fulfill the playthrough on time, then you're looking at a good offer. If this isn't the case, you better look for a different incentive. A good wagering requirement in compliance with the industry standard is currently set at 30x to 40x, with a time to complete ranging between a week and a month. Of course, the best ones allow you to take a whole month, but this is getting more and more rare of an occurrence with each day.
LoveCasino's Third Welcome Bonus of 200% up to EUR 2,000 and 100 Free Spins on Koi Princess, just like the two before that, has an ultra-steep wagering requirement of 50x. Not only does this add up to the uncertainty of an unspecified fulfillment time frame, but it also makes wagering the maximum amount you are encouraged to deposit realistically unwagerable. We could hope that the lack of a specified deadline means there's no deadline at all, but that's wishful thinking. If you're going to claim this promotion, be in close contact with customer service, ask them all your questions until you get satisfactory answers, and keep all of the screenshots, just in case.
Payment Restrictions
Minimum Deposit: EUR 20
Maximum Deposit: EUR 2,000
Maximum Withdrawal: There is a maximum weekly limit of EUR 5,000.
Maximum Bet: Not specified
Game Restrictions
To complete the bonus's wagering requirements, make sure to only play slots, as that's the sole contributing game genre. The casino's anti-bonus-abuse measures are in effect to keep the integrity of the bonus system. These measures include scenarios such as systematically placing substantial bets on a game that contributes less than 20% of the wager toward the necessary playthrough (e.g., Video Poker, Roulette, and Blackjack), followed by transitioning to a game that contributes a higher proportion of the wager to playthrough (e.g., Slots) and making lower-value bets than the current average bet size. In instances where the casino identifies that a player is employing irregular gaming techniques, it retains the authority, at its sole discretion, to withhold withdrawals and potentially seize any winnings associated with irregular play. If the irregular play keeps going on, the casino can disqualify a player from receiving bonuses and may also suspend or block the player's account.
Reasons for Not Receiving Your Bonus
You've Missed the Time Slot
Just like the first two welcome bonuses, this third one also is available only until the end of this year. If it sounds good to you and you'd like to enjoy reaping the benefits you perceive it to provide, do your best to claim it before 2023 is over. 2024 will surely bring about new incentives that can be just as exciting or even better, but in case you love this one in particular, you have until the last minute of December 31st to enjoy it.
The Casino Changed its Conditions
LoveCasino has quite the wishy-washy Terms & Conditions and constantly implies that it retains the right to practically change any and everything about its rules and framework on a whim. This can affect your bonus usage, as what you've known for a fact when choosing an incentive may no longer apply at the time you've decided to get it. The main workaround we can suggest is close contact with customer support and keeping all transcripts for future reference.
You Tampered With the Bonus
While very lenient on its own code of conduct regarding terms and conditions, LoveCasino is very one-track-minded when it comes to players not messing with the fair usage of bonus offers on its premises. If you attempt to claim a bonus multiple times and it's originally intended to be claimed just once, or if you create more than one account per household or computer, the casino will revoke your bonus and may suspend your account, even.
How to Claim the Third Welcome Bonus at LoveCasino?
Enter Your Account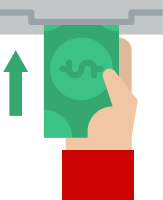 Deposit at least the Minimum Amount
Have fun!
Enjoy your bonus and free spins!