LalaBet Casino Friday Reload Bonus Review
LalaBet Casino has a ton of offers altogether, and luckily, many of them are directed towards its regular players. One such incentive is the Friday Reload Bonus you can claim once a week right before the weekend starts. This promotion gives you the chance to grab a 30% match bonus up to EUR 200 and use it to power up your weekend bets with a little extra boost. This is a welcome opportunity that not every betting hub out there provides, as many establishments focus on amassing new visitors, but don't necessarily pay too much attention to the regular ones – here, all those who frequent LalaBet are heftily rewarded. If you'd like to grab this promo offer, all you'd need to do is deposit at least EUR 20 on Friday and enjoy your casino games. Of course, to make the best out of the incentive's full set of benefits, you should be closely acquainted with all applicable terms, conditions, rules, and regulations and we're here to help you with all of that. If you're eager to learn as much as possible about the intricacies of maximizing this offer's potential and wish to become well-versed on all possible setbacks as well as the ways to avoid them, stay tuned throughout our review. Now, let's get right into it.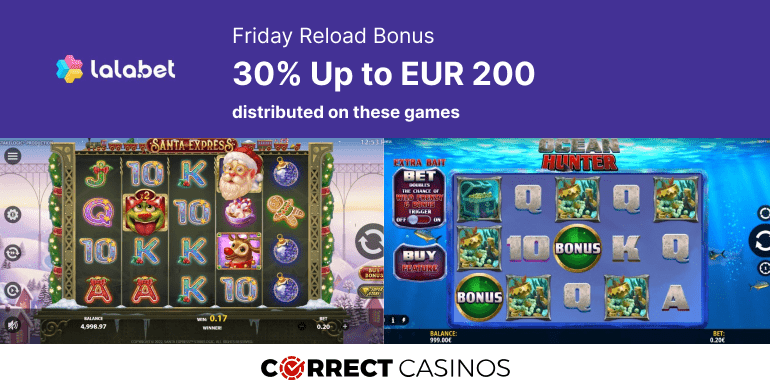 Your Friday Reload Bonus at LalaBet Casino – What to Expect?
LalaBet Casino's Friday Reload Bonus offers a 30% match of up to EUR 200, which might not seem like much compared to the significantly more impressive welcome offers, but it's a perfect little boost for players who already know their way around the establishment. Obtaining the bonus is fairly simple – you must select it at the cashier and deposit at least EUR 20 to trigger it. To illustrate how this promo offer works, if you decide to deposit the maximum amount, for example, which is EUR 200, you'll receive an additional EUR 60 from the casino and have EUR 260 to bet throughout the weekend. The bonuses at LalaBet usually work seamlessly and appear in your account as soon as you've finished depositing funds in it, but still, in case of a technical issue, make sure to be quick and contact the customer care representatives to have the issue resolved on time. If we had to sum up the benefits of this Friday Reload Offer, we'd deem it rather fair, well-balanced, and sufficiently advantageous, so if you're excited to grab it, make sure to do so and enjoy.
Like many other promotions at the betting hub, this one too has a maximum bet limit of EUR 5. It's important to consider this when determining how much you can successfully wager on time, but a EUR 5 max bet isn't necessarily too challenging in and of itself. Not only this, but our bonus review is full of tips and tricks on how to pace out your incentive usage and derive the maximum benefits from it will further help you succeed even if the bet threshold was lower or there were any other obstacles. In case you're still curious about methods that can help you when claiming your bonus, insider information, and useful forewarnings, let's dive deeper into the topic in the following few sections.
| | | | | | | | |
| --- | --- | --- | --- | --- | --- | --- | --- |
| Bonus | Value | Minimum deposit | Wagering | Bonus code  | Bonus type | Max bet  | Eligible games |
| Friday Reload Bonus | 30% up to EUR 200  | EUR 20 | 40x | n/a | Match Bonus  | EUR 5 | All games |
Wagering
Understanding wagering requirements must be your top priority when taking a look at basically any promotion at any online casino. These requirements serve as the primary revenue-generating tool for the casino and pose the main challenge for players, yourself included. To fully enjoy the benefits of your incentive, you must first be sure that you're well-acquainted with the concept of playthrough. Online casinos often entice players with promises of substantial sums, extraordinary percentages, and numerous additional perks. However, these enticing offers do not necessarily guarantee that the promotion you're considering will bring you many positives. To make informed decisions, it's essential to focus on the most critical details — what matters most is the wagering requirement and the time frame for completing it, so keep your eyes set on these two factors. If the numbers align sensibly, you're likely in for a rewarding experience. For reference, a reasonable playthrough requirement typically falls within the range of 25x to 40x, accompanied by a minimum of 7 days to fulfill it. Any duration exceeding this timeframe is even more favorable. Keep in mind that the more substantial your deposit, the more time you'll likely need to wager it successfully.
LalaBet Casino's Friday Reload Bonus of 30% up to EUR 200 comes with a 40x wagering requirement, which seems to be standard for the betting hub. Just like all other offers at the establishment, this one too is tied to a 7-day time slot for completing its playthrough. Since the amount you can deposit with it isn't sky-high, it makes the wagering process feasible and expectedly smooth. For some extra reassurance that everything will go smoothly while you're fulfilling the set playthrough, you can of course closely follow your progress, make sure that you're paced according to the time you have, and remember to stick to the predetermined maximum allowed bet.
Payment Restrictions
Minimum Deposit: EUR 20
Maximum Deposit: EUR 200
Maximum Withdrawal: 10x the bonus amount
Maximum Bet: EUR 5
Game Restrictions
LalaBet has an entirely negative and quite stringent stance against any attempts to manipulate bonuses, abuse promotions, or engage in fraudulent activities related to the bonuses you can claim. In cases when the casino believes you're onto some iffy business, it reserves the right to halt your future participation in the promotion and may even seize any bonuses or associated winnings from your accounts. The casino defines misconduct as actions such as using a VPN, concealing your IP address, creating multiple accounts to claim several bonuses, employing a multiple account strategy or proxy account strategy, wagering more than 10% of the bonus amount in a single bet, spin, or round, or participating in any other form of fraudulent behavior, and more.
Reasons for Not Receiving Your Bonus
You've Exceeded the Max Bet
The maximum allowed bet for this specific promotion at the casino is EUR 5. It's of utmost importance for your success to stay within this limit to avoid any issues with the casino, as exceeding it could be seen as improper conduct or even fraudulent behavior. Going beyond this predetermined threshold may lead to the forfeiture of your bonus and any associated winnings. To fully enjoy the promotion without interruptions, be sure to adhere to the established limit.
You're in a Restricted Country
LalaBet Casino appears to be committed to making its bonus offers accessible to players from various regions around the world. However, certain countries have regulations that don't align with the casino's terms and conditions, preventing residents of those regions from participating in the promotions. To ensure your eligibility for a specific bonus, it's advisable to verify whether it's accessible in your current location.
You didn't Manage to Complete the Playthrough
This offer comes with a 40x wagering requirement, and you have a 7-day window to fulfill it. If you fail to meet the requirements within this timeframe, your bonus, as well as any winnings generated from it, will be forfeited.
How to Claim the Friday Reload Bonus at LalaBet Casino?
Log In
Log in at the betting hub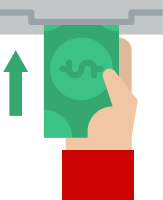 Select and Deposit
Select the Friday Reload Bonus at the cashier and deposit at least EUR 20
Have fun!