LalaBet Casino 1st Casino Welcome Bonus Review
LalaBet Casino has a couple of very exciting welcome bonuses prepared for you as a newly registered player, and in this article, we'll explore the benefits of its 1st Casino Welcome Bonus. The promotion entails a 75% match bonus up to EUR 200 and a EUR 5 freebet as an added benefit. A combination of a match bonus and an additional perk is possibly the most common welcome incentive, and for a good reason – it gives the needed boost to new players and provides an abundance of opportunities. In this particular case, all you need to do to grab LalaBet's first offer is to simply deposit a minimum of EUR 25 after making an account. Of course, just like all other welcome promotions, this one comes with its rules, conditions, terms, and regulations that need to be taken into account and studied carefully for the best results. If you'd like to become well-versed when it comes to this welcome incentive and you're excited to learn how to maximize the benefits it can bring your way, let's get right into its assessment!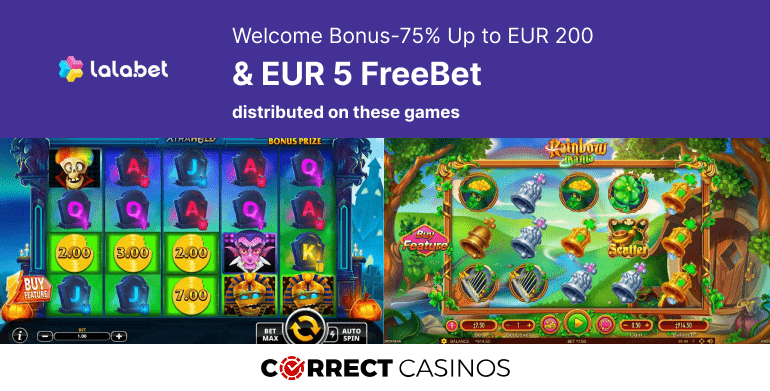 Your 1st Casino Welcome Bonus at LalaBet Casino – What to Expect?
LalaBet Casino's 1st Casino Welcome Bonus is a match bonus that allows you to get 75% up to EUR 200 and also rewards you with a EUR 5 freebet. To get it, you need to first register at the casino, go to the cashier, make a deposit of at least EUR 25, and you're ready to go! To illustrate how this promotion works, if you deposit EUR 100, you'll get another EUR 75 as a bonus, and have a total of EUR 175 in your account. The incentive should quickly appear in your balance and you'll be off to a great start of your betting spree. In the unlikely case that there's a malfunction and you don't get the funds right away, don't hesitate to ask customer support to resolve this for you. All in all, this is a good, balanced welcome incentive that doesn't go overboard with flashy promises, but boosts your performance at the casino in the right amounts.
The maximum allowed bet while using this promotion has been set at EUR 5, which is quite standard and we deem it fair enough. The maximum odds for the freebet are set at x1,90. At this point, you surely are eager to know as much as possible about the intricacies of the conditions that need to be followed to successfully turn this promotional offer into withdrawable funds in the end, and there indeed are some indispensable details that need to be explored further. The next few sections will take a closer look at what it takes for you to get the best out of LalaBet's 1st welcome incentive, so make sure to stay tuned and pay close attention. The best part is that we will not only provide you with an easy-to-digest summary of the crucial details but also equip you with top-notch tips and tricks on how to avoid the potential pitfalls you may encounter. Let's keep exploring in the next paragraph.
| | | | | | | | |
| --- | --- | --- | --- | --- | --- | --- | --- |
| Bonus | Value | Minimum deposit | Wagering | Bonus code  | Bonus type | Max bet  | Eligible games |
| 1st Casino Welcome Bonus | 75% up to EUR 200 + EUR 5 freebet | EUR 25 | 40x | n/a | Match Bonus + Freebet | EUR 5 | Slot games and live casino |
Wagering
To make the most out of your welcome bonus, you should know what to look for and what's important to its successful completion in the first place. However we slice it, it all starts with understanding wagering requirements, as they are the main challenge you need to face. Big percentages, shocking maximum deposit amounts, promises of huge winnings — none of these actually make it to the top of the things to look for when picking the right welcome offer. Instead of getting blinded by marketing, you simply need to see if the wagering requirement seems realistic compared to the time you're given to complete it and see how much you can deposit and wager without getting overwhelmed. Considering that if you don't manage to meet the wagering conditions in time you usually are set to lose all bonus funds and associated winnings, being level-headed and strategic is advisable. To give you an idea, the industry-standard playthrough is 30x to 40x and the usual time frame that's given is between 7 and 30 days.
LalaBet Casino's 1st Casino Welcome Bonus of 75% up to EUR 200 + an EUR 5 Freebet is tied to a wagering requirement of 40x, which is a standard one. You are given 7 days to fulfill it, and taking into account that the maximum allowed deposit is only EUR 200, completing the requirement on time is perfectly feasible. Of course, you will still need to pay attention to which games contribute fully and which ones do so only partially, as well as be punctual, but if you're set on completing the playthrough, you most definitely will be able to.
Payment Restrictions
Minimum Deposit: EUR 25
Maximum Deposit: EUR 200
Maximum Withdrawal: 10x the bonus amount
Maximum Bet: EUR 5
Game Restrictions
The casino requires you to activate the Bonus before making the corresponding deposit, and it will be credited to your account immediately after you refill your balance. If, for any reason, the bonus is not credited after activation and deposit, please reach out to customer support before placing any bets. Failure to do so may result in the bonus not being provided. Various games contribute differently to the wagering requirements, with Slot Games being the sole contributor at 100%. Live casino games contribute 10%, while table games and video poker do not contribute at all, and jackpot games are off-limits during the wagering process. LalaBet has a strict policy against bonus abuse and any fraudulent activities related to bonuses on player accounts. If there are suspicions of bonus abuse or fraudulent activities, the casino reserves the right to halt any further bonuses, promotions, or offers and may also confiscate bonuses and winnings from your account or any linked accounts. Examples of bonus-related fraudulent activities include attempting to claim multiple bonuses using more than one account and other forms of misconduct.
Reasons for Not Receiving Your Bonus
You've Exceeded the Max Bet
There is a set maximum bet limit of EUR 5 for this offer, and it's essential to strictly adhere to it. Exceeding this amount will lead to the suspension of your bonus even if you went over the limit accidentally.
You're in a Restricted Country
LalaBet Casino's bonus offers are offered to players from many countries worldwide, but some are excluded from participation due to their local jurisdiction not following the casino's conditions for one reason or another. If you'd like to claim the promotion, make sure that you're residing in a territory where the bonus you've set your eyes on is available.
You didn't Manage to Complete the Playthrough
You have 7 days to complete a playthrough of 40x. If you fail to do so, the casino will revoke your bonus and any winnings you might have accumulated from it during the wagering process.
How to Claim the 1st Casino Welcome Bonus at LalaBet Casino?
Create an Account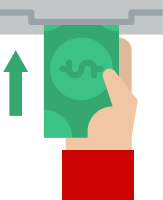 Select and Deposit
Select the 1st Casino Welcome Bonus and deposit at least EUR 25
Have fun!