LalaBet Casino 3rd Casino Welcome Bonus Review
LalaBet Casino's welcome offers are plenty, and we've already reviewed their 1st and 2nd Welcome Bonuses quite positively. This time around, we'll take a look at the betting hub's 3rd Welcome Bonus promotion. This one offers a 75% match bonus of up to EUR 500 and, you guessed it, a EUR 5 free bet on top of that. As we have previously mentioned, the combination of a match bonus and an added benefit like the free bet in this case is an all-time favorite welcome incentive formula – it reinforces the initial enthusiasm of new players and encourages them to place daring bets. To get LalaBet's benefits prepared for your third deposit, you have to make a minimum deposit of EUR 25, just like with the previous two offers. At this point, it won't come as a surprise to you that the incentive we're about to assess comes with a full set of restrictions, conditions, and regulations to be followed, especially if you're set on making the best of it. Excited to know more about how to do just that and learn all the necessary steps to succeed? Let's get right into our review and prepare you for this bonus in the best way possible.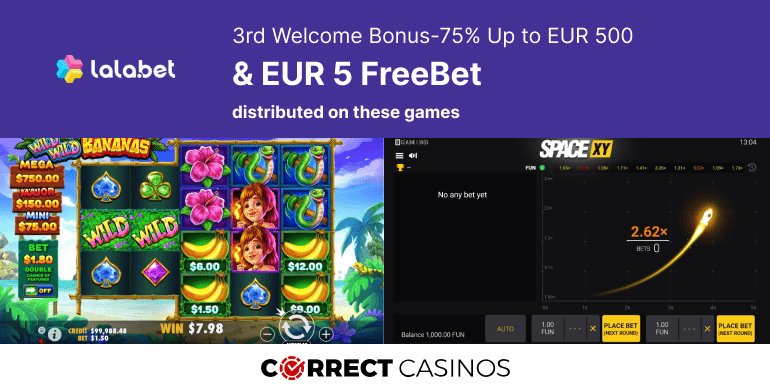 Your 3rd Casino Welcome Bonus at LalaBet Casino – What to Expect?
LalaBet Casino's 3rd Casino Welcome Bonus offers you a 75% match just like the first one, but this time around, it's up to EUR 500, with the EUR 5 free bet remaining constant. Getting it follows the same procedure as the previous two incentives – you need to go to the cashier, deposit at least EUR 25, and have fun betting. An example of what you can expect with this bonus: in case you deposit EUR 500, you'll receive EUR 375 on top as bonus funds, and end up with a total of EUR 875 in your account. If everything goes right, you will be able to see your bonus funds seconds after making the deposit, but if for any reason this doesn't occur, simply reach out to customer support and they will make sure to make it right for you. In summary, this promotion is just as balanced, substantial, and adequate as the first and second ones – you'll undoubtedly have enhanced betting power during your gambling adventure if you choose this incentive.
Similar to the previous two welcome offers, the maximum bet set for this one is EUR 5 as well. Another thing that remains unchanged is the minimum free bet odds of x1.90. Now, if you've claimed the first and second bonuses and succeeded in turning them into withdrawable cash, you're surely excited to know all about this third promotion and see if there are any major differences in order to be well-prepared. Luckily, our comprehensive breakdown of LalaBet's 3rd Welcome Bonus doesn't stop here, so you'll receive the inside scoop on all that's crucial for your future betting success. Keep on reading to unveil any potential pitfalls, key steps to incentive usage, and many useful tips. Without further ado, let's delve even deeper and explore this promo offer.
| | | | | | | | |
| --- | --- | --- | --- | --- | --- | --- | --- |
| Bonus | Value | Minimum deposit | Wagering | Bonus code  | Bonus type | Max bet  | Eligible games |
| 3rd Casino Welcome Bonus | 75% up to EUR 500 + EUR 5 freebet | EUR 25 | 40x | n/a | Match Bonus + Freebet | EUR 5 | Slot games and live casino |
Wagering
Wagering requirements are indispensable when it comes to almost any bonus offer, as they serve as the casino's main tool for revenue, and the main challenge for all players. To be able to maximize the positives you can receive from your incentive, you must first learn to understand and navigate playthrough, overall. To put it simply, if you wish to bag your winnings and be victorious at the end of each claimed promotion, you need to be on top of your game when conquering the wagering process. Online casinos may try to persuade you into claiming their offers by promising huge amounts, unheard-of percentages, and many added perks, but none of these necessarily mean that the incentive you're looking at is a quality one. Keeping your laser focus on the few truly important details is the way to go, though. All you need to be interested in is what the wagering requirement is, and how much time you're given to complete it. In case the numbers make sense together, you're most probably in for a good ride. To give you an idea of what a sensible playthrough looks like, you should look for one between 25x and 40x, with at least 7 days to complete it, but anything over that is great. Of course, the more money you deposit, the more time you'd need to wager it.
LalaBet Casino's 3rd Casino Welcome Bonus of 75% up to EUR 500 plus a EUR 5 Freebet has a 40x wagering requirement, just like its two predecessor offers, and just like them, it's tied to a 7-day time frame for completion. The maximum deposit amount of EUR 500 is reasonable enough not to pose an insurmountable challenge when wagering, which is an added benefit. Simply make sure to check what games will give you the biggest leverage while wagering, and avoid the ones with smaller contribution percentages. You must, of course, follow your progress closely and make sure you're on time, but with a little planning and dedicated gameplay, anything is possible.
Payment Restrictions
Minimum Deposit: EUR 25
Maximum Deposit: EUR 500
Maximum Withdrawal: 10x the bonus amount
Maximum Bet: EUR 5
Game Restrictions
Various games contribute differently to the playthrough process. Slot Games are the most significant contributors, counting 100%. Live casino games have a 10% contribution, while video poker and table games do not contribute at all. Additionally, jackpot games are not allowed during the wagering process. LalaBet maintains a strict stance against bonus manipulation, promotion abuse, and any fraudulent activities associated with bonuses or your account. If there are suspicions of bonus abuse or misconduct, the casino has the authority to cut your future bonus participation short and may confiscate any bonuses or related winnings from your accounts. Examples of what the casino considers misconduct include employing a VPN, masking your IP address, or engaging in other forms of fraudulent behavior.
Reasons for Not Receiving Your Bonus
You've Exceeded the Max Bet
The maximum bet set at this casino, for this promotion in particular, is EUR 5. Going over it is considered misconduct or even fraudulent activity by the betting hub, and will result in your bonus being voided along with any winnings. Make sure not to go over the predefined limit to enjoy the incentive uninterrupted.
You're in a Restricted Country
LalaBet Casino seems set on distributing its bonus offer to as many players worldwide as possible. Unfortunately, some countries' jurisdictions have rules in place that don't align with the ones imposed at the casino. This results in the promotions not being available in such territories. If you want to grab a certain incentive, please double-check if it's available where you're currently located.
You didn't Manage to Complete the Playthrough
This promotion has a 40x wagering requirement and 7 days for its completion. If you don't manage to fit within the time frame, your bonus will be revoked along with the accumulated winnings from it.
How to Claim the 3rd Casino Welcome Bonus at LalaBet Casino?
Log In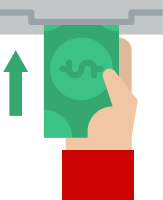 Select and Deposit
Select the 3rd Welcome bonus and deposit at least EUR 25
Have fun!