Rakoo Casino Tuesday Cashback Offer Review
No matter how long you've been enjoying betting at Rakoo Casino, you can take advantage of the Tuesday Cashback Offer that secures 15% cashback on all of the losses you've accumulated during the week while playing casino games. The best thing about this offer is that it's available for all players, as opposed to many cashback promos in other casinos that only grant the benefit to players with high VIP levels. Here, though, regardless of your status, you can get 15% on all of your unlucky bets back every week. All you need is to have accumulated over EUR 30 in losses for the designated period, and you'll be reimbursed automatically. If this sounds like an offer you'd love to make the best out of, we've prepared a comprehensive breakdown to help you do so and maximize its potential.
Your Tuesday Cashback Offer at Rakoo Casino – What to Expect?
Rakoo Casino doesn't leave its players in the dust and helps them recover from the losses accumulated while playing casino games with an unlimited cashback offer of 15% that can be claimed every Tuesday. To be eligible for it, you need to have accumulated over EUR 30 in losses on casino games. The minimum cashback amount is EUR 5, and there's no upper limit. This cashback offer stands out with impressive generosity, considering how inclusive and easy to obtain it is. Like any other promotion, though, it's attached to numerous terms and conditions that need to be closely followed for successful completion. It's important to know the rules and framework of a bonus offer before deciding to claim it, to avoid disappointments and make the best out of it. This is why, we'll help prepare you by getting into the nitty-gritty in the next few paragraphs.
| | | | | | | |
| --- | --- | --- | --- | --- | --- | --- |
| Value | Minimum losses for eligibility | Wagering | Bonus code  | Bonus type | Max bet  | Eligible games |
| 15% Unlimited Cashback | EUR 30 | 3x | n/a | Cashback | EUR 5 | All Casino Games |
Wagering
Most bonus offers seem appealing until you encounter their associated wagering requirements. These requirements aren't something to dread or perceive negatively, though, as they constitute an essential element of a successful online casino's business model and align with a player's penchant for challenges. The sole precaution necessary when acquainting yourself with the playthrough conditions of a specific betting platform is to thoroughly assess whether the wagering requirement can realistically be met within the time limit stipulated by the establishment in accordance with their terms and conditions. While cashback is most often not subject to steep playthrough, it's still best to look out beforehand and check what the conditions look like.
Rakoo Casino's Unlimited Tuesday Cashback Offer of 15% comes with a 3x wagering requirement which can be considered ridiculously low if compared to those of match bonus offers. However, you'd be surprised to know that most cashback comes with a 1x playthrough rule. It's still important to note that most casinos that impose merely a 1x wagering requirement on their cashback have a cashback offer that is far less attainable in the first place, which makes Rakoo Casino's incentive completely reasonable. You need to complete the 3x wagering requirement within 3 days of receiving the reimbursed amount, so keep this in mind and wager in a timely manner.
Payment Restrictions
Minimum Losses: You need to have lost at least EUR 30 while playing casino games to be eligible for this 15% cashback offer.
Minimum Cashback: The minimum cashback amount that can be received through this promotion is EUR 5.
Maximum Withdrawal: It seems that this cashback offer does not come with a designated maximum withdrawal limit, which implies that the regular maximum withdrawal limits of the casino will be in effect.
Maximum Bet: A limitation is placed on the maximum bet for this promotion, with the cap set at EUR 5.
Game Restrictions
The promotion period covers each week from 00:00 on Tuesday until 23:59 UTC on the following Monday. No additional action is required to participate. This offer is exclusively applicable to games played within the Casino section. Spending funds in other sections like the Live Casino will not contribute to this promotion. The cashback amounts owed are determined using a formula that looks like this: (total deposits made during the promotional period – remaining available balance from deposits made during the promotional period – total withdrawals made during the promotional period – total bonus credited during the promotional period) multiplied by a 15% cashback rate. The cashback is automatically added to the customer's real account balance. This promotion is limited to residents or nationals of specific countries, including Croatia, Armenia, Tunisia, Bosnia and Herzegovina, Indonesia, Georgia, Malaysia, Argentina, and Peru.
Reasons for Not Receiving Your Bonus
Not Reaching The Loss Threshold
Rakoo Casino's Unlimited 15% Tuesday Cashback offer is only applicable to accounts that have accumulated losses over EUR 30 during the course of the week. If you have, let's say, lost EUR 28 this week, you won't be eligible for cashback the next Tuesday. We're, of course, not keeping our fingers crossed for anyone to lose, but if you wish to take advantage of Rakoo's great cashback offer, you'd need to lose at least EUR 30.
You've Played a Restricted Game
This bonus is exclusively applicable to games within the Casino Game section. Engaging in games beyond this category, such as live casino games or others, might incite the casino to perceive it as a breach of their terms and conditions. Consequently, your bonus and any related winnings could be nullified. To prevent such undesirable occurrences, it's advisable to solely partake in the designated games for the promotion, namely those within the casino game section. Reserve your enthusiasm for titles beyond this section for a different occasion.
Your Cashback Is Less Than EUR 5
Now, here's a tiny catch to be mindful of – it's stated that the minimum losses you need to have accumulated to be eligible for this promotion should equal EUR 30. However, it's also stated that the minimum cashback payout amount is EUR 5. If we do the math, 15% of EUR 30 is EUR 4,50, right? This means that actually, to get some cashback, you need to have accumulated losses not over EUR 30, but to be exact, over EUR 34.
How to Claim the Tuesday Cashback Offer at Rakoo Casino?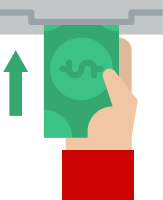 Make Deposits and Bets During The Week
Make deposits and bet on casino games during the week. You're encouraged to play to your heart's content, and if you lose over EUR 34, you'll be able to get 15% cashback next Tuesday.
Automatically Get Cashback on Tuesday
On Tuesday, the casino's system will automatically calculate your accumulated losses and the cashback amount you need to receive. You'll find the amount in your account.
Accept the Bonus and Enjoy!
Enter your profile, accept the bonus, and enjoy your reimbursement of 15%!