Casombie Metalhead Welcome Bonus Review
For your first deposit at Casombie, claim 15% cashback up to AUD 375 with the Metalhead Welcome Bonus. We are going to detail Casombie's Metalhead's Welcome Bonus, examine its conditions and restrictions, consider some reasons why you might not receive your bonus, and explain how to claim it.
Your Metalhead Welcome Bonus at Casombie. What to expect?
15% Cashback up to AUD 375
If you select the "Metalhead" avatar during your registration at Casombie, you can claim 15% cashback up to AUD 375 for all live casino losses. The bonus can only be claimed by new players and is only valid for games in the "Live Casion" section, including both virtual sports and casinos. The minimum cashback that can be credited as part of the promotion is 7.5 AUD (therefore your live game losses need to be at least AUD 50 to receive any cashback); the maximum cashback is AUD 375. To receive the cashback, you need to have not claimed any bonuses between your first deposit and the time you request the cashback. If you claimed a bonus before you requested it, you will no longer be able to claim the cashback. After the cashback is credited to your account, it will be subject to a one-time wagering requirement before it can be withdrawn.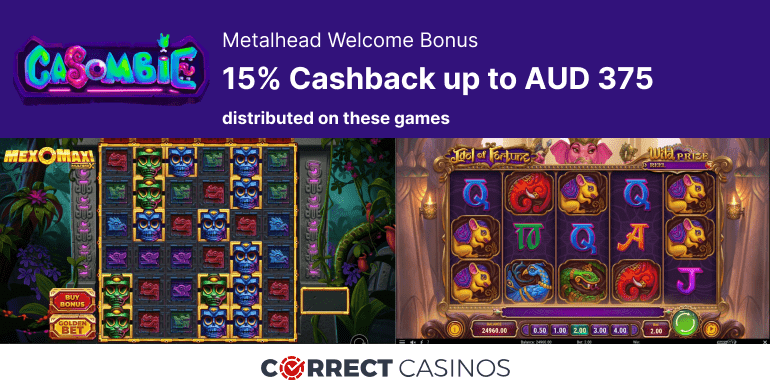 Wagering
The cashback will need to be played at least once before it can be withdrawn. This means, that your total bets placed with your cashback at Casombie need to equal your cashback amount for the wagering of the bonus to be completed. Before the wagering is completed, the cashback will only be playable at the casion and will not be withdrawable. After the wagering has been completed, the cashback will be credited to your real money balance and can be withdrawn just like any other of your funds.
The period in which the wagering needs to be completed is 10 days. After 10 days from the time the bonus has been credited, the cashback will be canceled and all the bonus funds will be removed from your account. Until you complete the wagering, the deposit you made to claim the cashback will be locked and will not be available for withdrawal.
Payment Restrictions
Minimum Deposit: While there is no minimum deposit to claim the bonus, the minimum cashback amount that can be credited is 7.5 AUD corresponding to a loss of at least AUD 50. No cashback will be granted for live game losses of less than AUD 50.
Maximum Win: Your winnings resulting directly from the cashback credited as part of the bonus is AUD 15,000. You will not be allowed to withdraw winnings above AUD 15,000 and they will need to be forfeited before you can request a witdrawal.
Maximum Bet: Until the completion of the wagering requirements, the maximum bet you will be allowed to place at Casombie is AUD 7.5. All bets above AUD 7.5 will be voided and will not be counted toward the wagering requirements.
Game Restrictions
Live games and table games will contribute only 10% of your wager to the wagering requirements, and we do not recommend wagering your bonus on them. All other games will, with a few exceptions, contribute fully to the wagering requirements. Bingo, Scratch Cards, Keno, and slot games all contribute fully. A few slot games, however, including "Monopoly," "Dream Catcher," and a few others will only contribute 50% of your wager. What's more, about a hundred slot titles do not contribute to the wagering at all: the excluded titles are fully listed in the terms and conditions. Before you begin wagering your bonus on a slot, make sure to check if the slot is just in case not on the list of excluded games.
The casino will also not count towards the wagering requirements any bets that it seems abusive, or not conforming to the casino's conditions, such as hedge-bets, two-tier bets, and others.
Reasons for not receiving your bonus
Third-Party Payment Methods
The use of third-party payment methods is not allowed at Casombie. The cashback can only be granted if the deposit you made to claim the bonus was made using a payment-method not registered in your name. If you used a third-party payment method to make your deposit, the deposit will be voided and refunded back to the original account.
Playing with a VPN
You are not allowed to you any service that hides your real location from the casino. If the Casombie determines that you have at any points used a VPN, a proxy, or any other similar service while gambling at the Casino, your account will termianted and all winnings and bonus funds will be confsicated.
Multiple Accounts
You are not allowed to open more than one account with Casombie. If the caisno detect that you have more than one acctive account opened with the casino, all of your accounts wil be termianted and all winnings and bonuses associated with them will be confiscate. In addition, only one account is allowed be address, device, and IP. All accounts opened from the same IP, address, or device will likewise be closed.
How to claim the Metalhead Welcome Bonus at Casombie?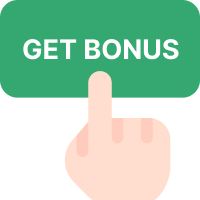 Click on "Get Bonus"
Click on the "Get Bonus" button at the top of the page to receive your Metalhead's Welcome Bonus at Casombie.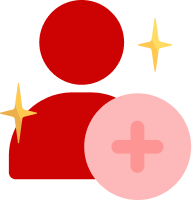 Register at the casino
 The bonus is only claimable by brand new players who have not deposited at the casino before. Once at Casombie, click on the "Regsiter" button in the upper-right corner of the page and open your account with the casino. If you wish to claim the bonus, you will need to select the "Metalhead" bonus during your registration.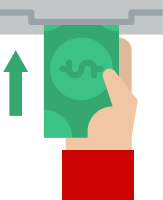 Make your deposit
Once logged in, make a deposit of at least AUD 7.5 by clicking on the "Deposit" button in the upper-right corner of the page.
Enjoy your bonus
Your Welcome Metalhead Bonus, of 15% of your deposit up to AUD 375, will be automatically credited to your account. Enjoy it on the hundreds of slot games at Casombie.