Ripper Casino $10 No-Deposit Bonus Review
Ripper Casino has an enticing offer for its newly registered players and if you've been wondering whether to jump in on the fun or not, this $10 No-Deposit Bonus will certainly encourage you to take the leap. No-Deposit welcome bonuses are rare gems adored by almost anyone in the iGaming community since all you have to do to grab one is register and enjoy your time betting the free funds you'll receive in exchange. This is exactly the case at Ripper Casino as well – simply make an account, use the designated promo code at the cashier, and enjoy free $10 for the beginning of your betting journey. Needless to say, no-deposit promotions are the ones that usually come with the most stringent rules and challenging conditions, so we'll explore to check if this is the situation with Ripper's free $10 incentive as well. In case you're interested in this free-of-charge benefit and wish to know how to navigate your path when it comes to it, let's assess it together for a better understanding.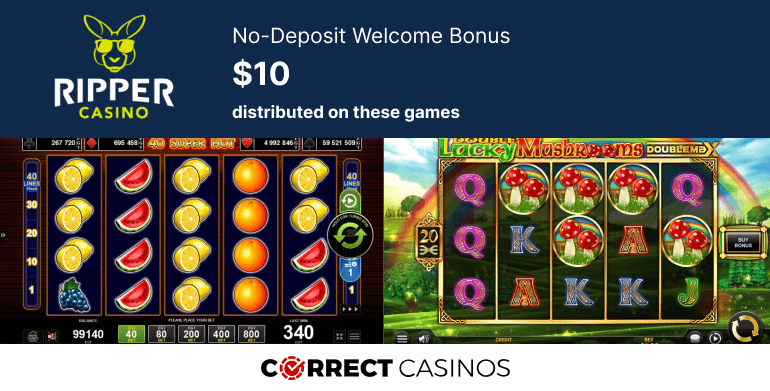 Your $10 No-Deposit Bonus at Ripper Casino – What to Expect?
Ripper Casino's $10 No-Deposit Bonus comes easily to you – all you need to do to grab it is register an account at the betting hub, fill out all necessary information, and use promo code TOOEASY at the cashier. You should receive your $10 shortly after completing the process, but if anything goes wrong and it doesn't arrive in your account, make sure to get in contact with customer support for immediate assistance. Such an occurrence is highly unlikely, though, so let's focus on the amazing benefit that a free-of-charge $10 can bring. The way that this incentive works is, that it essentially provides you with the opportunity to test the waters of Ripper Casino without any skin in the game, exploring and having the chance to win real money without making a deposit.
The maximum bet at the casino is stated to be $10, but it isn't specified whether this limit applies to the no-deposit promotion. While the incentive we're taking a look at sounds super enticing, the rather vague terms and conditions scattered around the website make it seem a little chaotic. Nevertheless, there's no harm in trying a free offer, although it's best to consider its limitations and potential pitfalls. In the following few sections, we'll explore the restrictions, terms, and conditions tied to this bonus in even more detail to check whether the incentive is worth your while. What's more, we will provide you with a comprehensive breakdown and add some tips and tricks on how to make the best out of this $10 No-Deposit Bonus.
| | | | | | | | |
| --- | --- | --- | --- | --- | --- | --- | --- |
| Bonus | Value | Minimum deposit | Wagering | Bonus code  | Bonus type | Max bet  | Eligible games |
| No-Deposit Welcome Bonus | $10 | n/a | 60x | TOOEASY | No-Deposit Bonus | $10 | Slot games |
Wagering
To make the most of any incentive, it's crucial to have a thorough understanding of what factors contribute to your success. Knowing your way around wagering requirements is a baseline skill in this regard. It's important not to be mesmerized solely by the allure of boastful numbers or promises of free benefits when evaluating a bonus offer. Instead, focus on assessing the size of the playthrough requirement and the time you're given to fulfill it. You should have a reasonable amount of time to complete it without feeling like you're on a mission impossible, even a bit of a challenge is included in the experience. If these conditions are not met, you can still enjoy the offer if it's a no-deposit one, but in case it requires a deposit, you better look for one that is more fair. Typically, a wagering requirement ranging from 30x to 40x, coupled with a completion timeframe of 7 to 30 days, is considered favorable. When it comes to no deposit bonus offers, though, the playthrough maybe even twice as high, since, you know what they say, 'there is no such thing as a free lunch'.
Ripper Casino's $10 No-Deposit Bonus, as expected of any no-deposit offer, comes with an extremely high wagering requirement of 60x, and unfortunately, there isn't information on the completion time frame anywhere on the casino's website. This, of course, could mean that you have indefinite time to fulfill the playthrough, but you can't plan your game on guesses, as it's best to know your facts. This is why contacting customer support for accurate information is the best practice in case some bits and pieces are missing. It's also good to make sure that you're contacting them right before claiming the bonus for the information to be as up-to-date as possible. We have given this advice many times, but keep screenshots of your chats with support just in case.
Payment Restrictions
Minimum Deposit: n/a
Maximum Deposit: n/a
Maximum Withdrawal: 5x the bonus amount
Maximum Bet: $10
Game Restrictions
When it comes to this bonus, there are specific games that count towards meeting the wagering requirements, including all Slots/Pokies and Keno. It's important to note that if you place bets on excluded games before completing the wagering requirements, it will result in the bonus and any associated winnings being forfeited. Furthermore, keep in mind that you can only claim multiple free bonuses or free spin offers in succession if you make a real money deposit in between. If you do so, the casino is likely to void any bonuses or winnings. Another thing to consider is that this promotion cannot be combined with any other promotional offer or your existing account balance. If you claim bonuses on top of an existing playable balance, any winnings will be voided, and the original deposit will be credited back to your account.
Lastly, promotional offers are exclusively available to players who have received the offer directly from the casino. Offers sent via email are intended for the recipient only and cannot be transferred.
Reasons for Not Receiving Your Bonus
You've Exceeded the Max Bet
There is a maximum allowed bet limit of $10 for this offer and you need to closely stick to it, as going over the predetermined rule will result in bonus suspension. While this might seem a little too excessive, adhering to the casino's terms and conditions is obligatory if you'd like to successfully claim your winnings and enjoy them afterward. When placing bets while still wagering the $10 No-Deposit Bonus, double-check if you're within the maximum bet limits.
You're in a Restricted Country
Ripper Casino's $10 No-Deposit Bonus isn't available for people residing in Azerbaijan, Brazil, Bulgaria, Croatia, Kazakhstan, Kyrgyzstan, Latvia, Lithuania, North Macedonia, Mauritius, Moldova, Montenegro, Poland, Romania, Russia, Slovakia, Slovenia, Tajikistan, Turkey, Turkmenistan, or Uzbekistan. If you're trying to grab the offer while in one of the listed territories, your attempts will remain unsuccessful.
You didn't Manage to Complete the Playthrough
This one is a little tricky, as Ripper Casino hasn't yet confirmed whether there is a time frame for completing your wagers and if yes, what it is. There more likely is one, but the betting hub likes keeping players on their toes. While this doesn't seem like the fairest practice, there is a high possibility that if you take too long wagering your bonus the designated amount of times, you'll eventually run out of time.
How to Claim the $10 No-Deposit Bonus at Ripper Casino?
Create an Account
Make an account at Ripper Casino.
Use the Promo Code
Use promo code TOOEASY at the cashier.
Enjoy the test ride!
Have fun with the free $10!