iWildCasino Loyalty Bonus Review
With each deposit at iWildCasino, you can receive 5% of your deposit as loyalty points. We are going to detail iWildCasino's Loyalty Bonus, examine its conditions and restrictions, consider some reasons why you might not receive your bonus, and explain step by step how to claim it.
Your Loyalty Bonus at iWildCasino. What to expect?
5% Loyalty Points
Every Sunday at iWild, 5% of all your deposits will be returned in the form of loyalty points. To receive the loyalty points, contact the casino's customer support via live chat or email at [email protected] immediately after your deposit. The casino will review your deposit and credit the points to your account. The maximum amount of loyalty points that can be granted from a single deposit is 1000.
The loyalty points can be exchanged for cash. After you exchange the points for cash, you will need to complete the 50-time wagering requirement before you can withdraw it. Like all other bonus funds granted by the casino, the cash funds will be valid for 10 days and all wagering needs to be completed before the end of the 10 day period.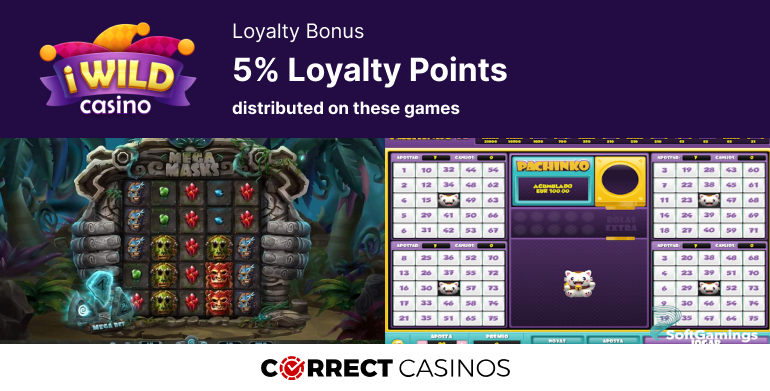 Payment Restrictions
Minimum Deposit: There is no minimum deposit requirement for the Loyalty Points bonus. 5% of every deposit at iWildCasino will be counted towards your loyalty points.
Maximum Win: The casino does not specify any maximum win restrictions for the promotion.
Maximum Bet: Your bet while wagering any funds from the bonus is limited to EUR 5. Any bets above EUR 5 will not be counted towards the wagering requirements and might be a reason for the termination of your bonus.
Game Restrictions
The wagering needs to be completed on slot games; only slot games will contribute to the wagering requirements. You can use your bonus funds to bet on table games and video poker, but your bets will not be counted towards the wagering requirements. You cannot use your bonus funds to bet on live games; live games will be deactivated and will not be available for play until the completion of the wagering requirements.
When wagering your bonus, most slot games will contribute 100% of your bets to the wagering. A few slot games, however, contribute only 20%, while a few others do not contribute at all. The restricted games are listed in the bonus's condition; before you begin wagering your bonus, familiarize yourself with the list, as you will not be warned if you attempt to bet on any restricted games.
Reasons for not receiving your bonus
Identity Verification
The bonus funds can only be paid out after you have verified your identity. To verify your identity, you will need to provide the casino a copy of your ID card, passport, or drivers license; a copy of a recent utility bill or bank statement that confirms your permanent address; and proof of ownership of the payment method used for your deposit. If you do not provide the requested documents in time or if there is any discrepancy between the required documents and your account data, the casino will not pay out your bonus and will terminate your account.
Advantage Play
Using any unusual betting patterns in any attempt to take advantage of the casino and to increase your chances of comleting the wagering requirements is strictly prohibited. If the casino detects that you are attempting to use any advantage play technique, they will confiscate all bonus funds and winnings and ban you from the casino.
Third-Party Payment Methods
Only payment methods registered in your name will be accepted at iWildCasino. If you make a deposit from a payment method registered to another, your deposit will be considered invalid and will be refunded back to the original account holder. All bonuses claimed via the deposit will be annulled and removed from your account.
How to claim the Loyalty Bonus at iWildCasino?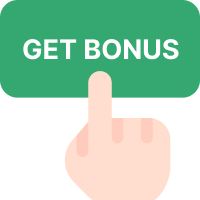 Click on "Get Bonus"
Click on the "Get Bonus" button at the top of the page to receive your Loyalty Bonus at iWildCasino.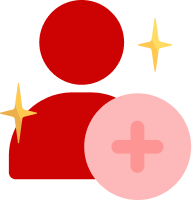 Log in to your account
The Loyalty Bonus is intended for existing players who have completed the welcome package. Once at iWildCasino, click on the "Sign In" button in the upper-right corner of the page, enter your account details, and log in to your account.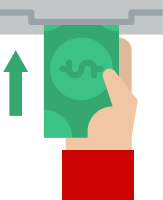 Make your deposit
The bonus is only valid for deposits made on Sunday. Once logged in, click on the "Deposit" button in the upper-right corner of the page, choose your preferred payment method, and deposit a minimum of EUR 20.
Contact Customer Support
Immediately after you deposit, contact iWild's customer support and request your bonus.
Enjoy your bonus
Your Loyalty Bonus, of 5% of your deposit in bonus points, will be automatically credited to your account. Enjoy it your time at iWild.