Nomini Casino Welcome Strawberry Bonus Review
On your first deposit at Nomini, get 15% cashback on all your live game losses. We are going to detail Naomi's Welcome Raspberry bonus, examine its conditions and restrictions, consider some reasons why you might not receive your bonus, and explain step by step how to claim it.
Your Welcome Strawberry Bonus at Nomini. What to expect?
15% Cashback up to EUR 250
If you choose the strawberry avatar during your registration at Nomini, you can claim a 15% cashback on all live games losses of your first deposit. The promotion is available only to players who selected "Strawberry" as Welcome Bonus avatar. If you selected strawberry as your welcome avatar, contact the casino's customer support via live chat or email at [email protected]. Nomini's customer support team will review your deposit and credit the cashback to your account. If more than 48 hours have passed since your deposit, or if you have claimed another bonus after your first deposit, you are not entitled to the Strawberry bonus and the cashback will not be credited to your account.
The Strawberry promotion is only valid for games in the "Live" category, and only losses on live games will contribute to the cashback. Funds spent on casino games, including on all slot and table games, are not taken into account when calculating the cashback. The minimum cashback that will be paid out is EUR 5. The maximum is EUR 250. The maximum cashback amount for citizens of New Zealand is 300 EUR.
In addition to the cashback bonus, as part of the strawberry promotion, you will also receive one free pick at the casino's Bonus Crap. The free pick can be played in the "Bonus Crap" section of the casino.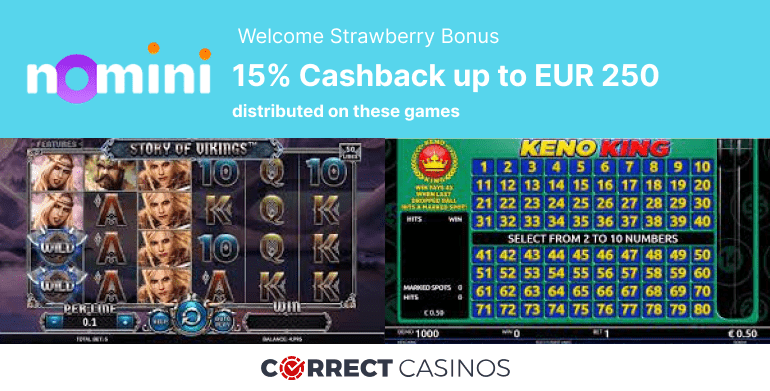 Wagering
The strawberry cashback bonus has a wagering requirement of one time. That means you will need to play through your cashback amount at least once before you can withdraw it. After playing through your bonus once, it will be transferred to your regular cash account and will become withdrawable.
The time you will have to complete the wagering is 10 days. If the wagering is not completed within 10 days, the cashback will be considered void and will be removed from your account.
Until you complete the wagering requirements, you will not be allowed to withdraw your deposit. If you wish to withdraw your deposit, you will need to cancel your bonus by contacting the casino's customer support team.
Payment Restrictions:
Minimum Deposit: Your first deposit needs to be at least EUR 10 to claim the Strawberry bonus. If your deposit was smaller than EUR 10, the cashback will not be credited to your account.
Maximum Win: Winnings from the cashback bonus are not capped. All winnings will become withdrawable as soon as the wagering requirements are completed
Maximum Bet: The maximum bet that will be allowed until the completion of the bonus's wagering requirement is EUR 5. All bets above EUR 5 will not be included in the wagering and might be grounds for the termination of your bonus.
Game Restrictions
Not all games will contribute your full wager when wagering the cashback. Slots, keno, and scratch cards contribute your full wager, but all other games offered by the casino, including all live games, contribute only 10%.
While most slot games typically contribute your full wager, a few games, "Crazy Time," "Dream Catch," "Monopoly," and others, contribute only 50%. In addition, about a hundred titles are excluded from the wagering and will not contribute any part of your wager. The excluded games are listed in the casino's terms and conditions. We recommend that you check if your chosen slot is in the excluded list before playing.
Reasons for not receiving your bonus
Playing with a VPN
Hiding your IP or location while playing at Nomimi is strictly prohibited and is grounds for the termination of your account. If the casino detects that you are hiding your real location by using a VPN, a proxy, or any other similar technology, your account will be canceled and all bonus funds will be confiscated.
Validity Period
All bonuses issued by the casino are valid for 10 days from the time the bonus has been credited to your account. After 10 days, all bonus funds and all winnings won using the bonus funds will be removed from your balance, if you wish to keep your bonus funds, you will need to complete the wagering requirements before the end of the 10-day validity period.
Multiple Account
You are only allowed to have a single account open with Nomini. If the casino determines that you have more than one account open with the casino, all your duplicate accounts will be closed, all winnings and bonus funds associated with them will be confiscated, and you will be permanently banned from the casino.
How to claim the Welcome Strawberry Bonus at Nomimi?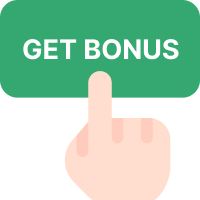 Click on "Get Bonus"
Click on the "Get Bonus" button at the top of the page to receive your Welcome Strawberry Bonus.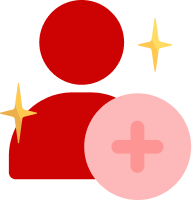 Register at the casino
The Strawberry bonus can only be claimed by newly registered players. Once at the casino, click on the "Register" button in the upper-right corner of the page, select the Strawberry avatar, and open a new account with the casino. You will not be able to claim the bonus if you do not select the Strawberry avatar during registration.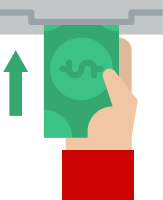 Make your deposit
Once logged in, click on the "Deposit" button in the upper-right corner of the page, choose your preferred payment method, and deposit at least EUR 10.
Contact Customer Support
Contact Nomini's customer support via live chat or email within 48 hours of your deposit and request your cashback bonus.
Enjoy your bonus
Your Welcome Raspberry Bonus, of 15% cashback on all your live game losses for your first deposit losses, will be automatically credited to your account. Enjoy your time at Naomi.