BetLive Casino Prime Cashback Bonus Review
BetLive Casino isn't short on bonus offers in no way, shape, or form, and today we'll be taking a look at one of the most alluring ones in its portfolio – the BetLive Prime Cashback Bonus. This offer can grant you either 20%, 25%, or 40% cashback once a day, depending on the accumulated losses from your bets made in the last 24 hours. The cashback percentages offered by the casino are quite generous, and can practically act as a safety cushion for nearly half of the money you bet and lose. Certainly, though, to fully maximize the advantages offered by this incentive, it's crucial to have an in-depth understanding of the relevant terms, conditions, rules, and regulations. We are here to provide you with all the necessary information, so fret not. If you're eager to gain a deep understanding of how to make the most of this offer and want to be well-informed about any potential challenges and how to overcome them, continue reading our review. Now, let's dive into the details.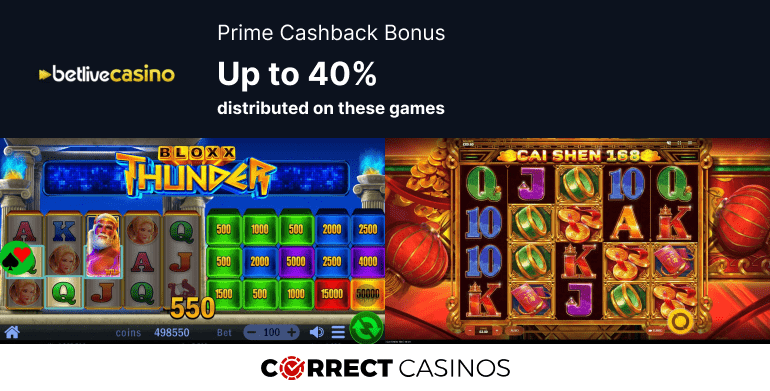 Your Prime Cashback Bonus at BetLive Casino – What to Expect?
BetLive Casino's Prime Cashback Bonus can secure you either 20, 25, or 40 percent cashback on a daily basis, depending on how much you've lost while betting on the previous day. Obtaining this cashback, surprisingly, proves to be quite complex – the official currency of the casino is Georgian Lari (GEL), and GEL 1 is roughly equal to EUR 0,35. Now, the minimum amount of cashback you can receive starts from GEL 10,000, which is equal to EUR 3,500. This is a sum that isn't even commonly bet in one single day by most players, which makes us wonder if the offer is directed towards a select few high rollers. Either way, to obtain 20% cashback, your losses from the previous day should be anywhere between EUR 17,500 and EUR 30,000, to get 25% cashback you should accumulate losses of EUR 30,001 to EUR 50,000, and for 40% cashback, you should lose EUR 50,001 or more in the span of 24 hours.
| | | | | | | | |
| --- | --- | --- | --- | --- | --- | --- | --- |
| Bonus | Value | Minimum eligible amount | Wagering | Bonus code  | Bonus type | Max bet  | Eligible games |
| Prime Cashback Bonus | Up to 40% | EUR 3,500 | n/a | n/a | Cashback | n/a | Slots |
Wagering
BetLive Casino's Prime Cashback Bonus of up to 40% doesn't seem to be tied to any wagering requirement. We searched the website high and low to find if there were any rollover requirements tied to the cashback provided by the casino, there wasn't any relevant information, or at least not any that was accessible. We tried contacting customer service, but they simply replied they couldn't provide us with an answer, and shortly after, the live chat was inaccessible. We are unsure whether this incident was initiated by the betting hub for any reason, or if it was simply a mishap. For the sake of safety, we'd guess that there is at least a 1x playthrough.
Payment Restrictions
Minimum Eligible Amount: EUR 17,500
Maximum Eligible amount: Unlimited
Maximum Withdrawal: Unspecified
Maximum Bet: Unspecified
Game Restrictions
BetLive's Prime Cashback promotion can only be obtained if the difference between the placed bet in slots and the winnings is more than EUR 30,000. You can only participate in the promotion once a day. The promotion is only available for losses accumulated while playing slot games. Any form of bonus tampering is strictly forbidden by the betting hub, and this includes forms of misconduct such as creating multiple accounts, attempting to claim a one-time offer more than once, applying detectable strategies, and participating in low-risk betting, to name a few. If the casino deems that the conditions of the promotion have not been fully met by the end of the eligible time frame, it retains the right to make all potential winnings and the bonus funds void.
Reasons for Not Receiving Your Bonus
You've Lost Less than the Minimum Eligible Amount
To be eligible for BetLive's Prime Cashback offer, you need to accumulate losses greater than EUR 17,500 on a single day while playing slots, and even a cent less than that will make you ineligible for the promised reimbursement. This is quite the amount, so it may prove near-impossible, but hey, if you happen to lose this much, the offer is up for grabs.
You've Tampered With The Bonus
BetLive strictly prohibits any form of bonus manipulation, which encompasses activities like creating multiple accounts, trying to claim a one-time offer multiple times, employing detectable strategies, or engaging in low-risk betting, among others. If the casino determines that the promotion's terms have not been entirely fulfilled within the specified timeframe, it reserves the right to void all potential winnings and bonus funds.
The Casino Changed its Conditions
BetLive Casino specifies multiple times throughout its terms and conditions that it retains the right to change any part of its rules without prior notice and at its own discretion. This means that the offer you were eligible for is suddenly no longer applicable to you.
How to Claim the Prime Cashback Bonus at BetLive Casino?
Bet on Slots
Accumulate losses
Accumulate losses of over EUR 17,500
Receive Cashback
The casino will provide you with the correspondent amount of cashback